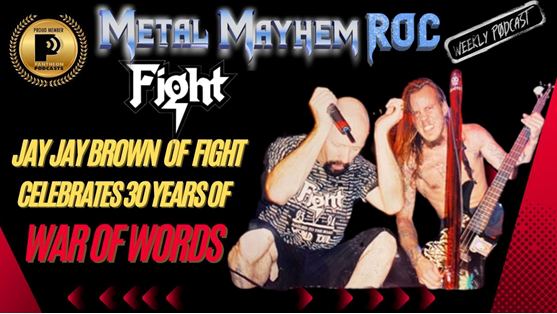 FIGHT. 30th Anniversary of the "War Of Words" album with Fight Bassist Jay Jay Brown
Read Time:
1 Minute, 28 Second
We're joined by Jay Jay Brown, Bassist of the 90s metal band Fight, Rob Halford's first project outside of Judas Priest. We celebrate the 30th anniversary of the iconic "War Of Words" album by taking an in-depth look at the songs, videos, & tours, Jay Jay's thriving career as a tattoo artist & painter & the return of his band S.I.L.
Jay Jay takes us back to the beginning of Fight & the origins of the band, the recording of two studio albums, and the highs & lows of circling the globe as a mere 20-year-old with one of his Metal heroes!
Jay Jay reveals fascinating stories of how he became the go-to tattoo artist for the Metal God himself, the guys of Pantera, plus we learn all about the guitar designs he made for Kerry King of Slayer.
In addition, he talks about the ongoing rehearsals for his band S.I.L. in anticipation of the bands' first show in decades this weekend in Arizona.
To show his gratitude towards his fans & followers, Jay Jay provided a gift for our Listeners, a never been heard before Fight live recording (link below):
Visit the website and join the Metal mayhem ROC community. Sign up for our weekly newsletter keeping you updated on all new podcast episodes as well as reminders for our live Radio show on Monday nights.
Special FIGHT music Link: https://on.soundcloud.com/Ug4tQ (https://on.soundcloud.com/Ug4tQ)
METAL MAYHEM ROC SOCIALS:
https://metalmayhemroc.com/
https://metaldevastationradio.com/
http://pantheonpodcasts.com/
Tweets by MetalmayhemR
https://www.youtube.com/channel/UC1Y8gRcKQODNMWwyLBfIHOA
https://www.instagram.com/metalmayhemroc/
https://www.facebook.com/groups/metalmayhemroc
Jay Jay Brown SOCIALS:
https://www.facebook.com/fightbandofficial
Related
0
0
MILES DAVIS New Graphic Novel Biography "Miles Davis and the Search for the Sound" from Z2 Comics Coming November...