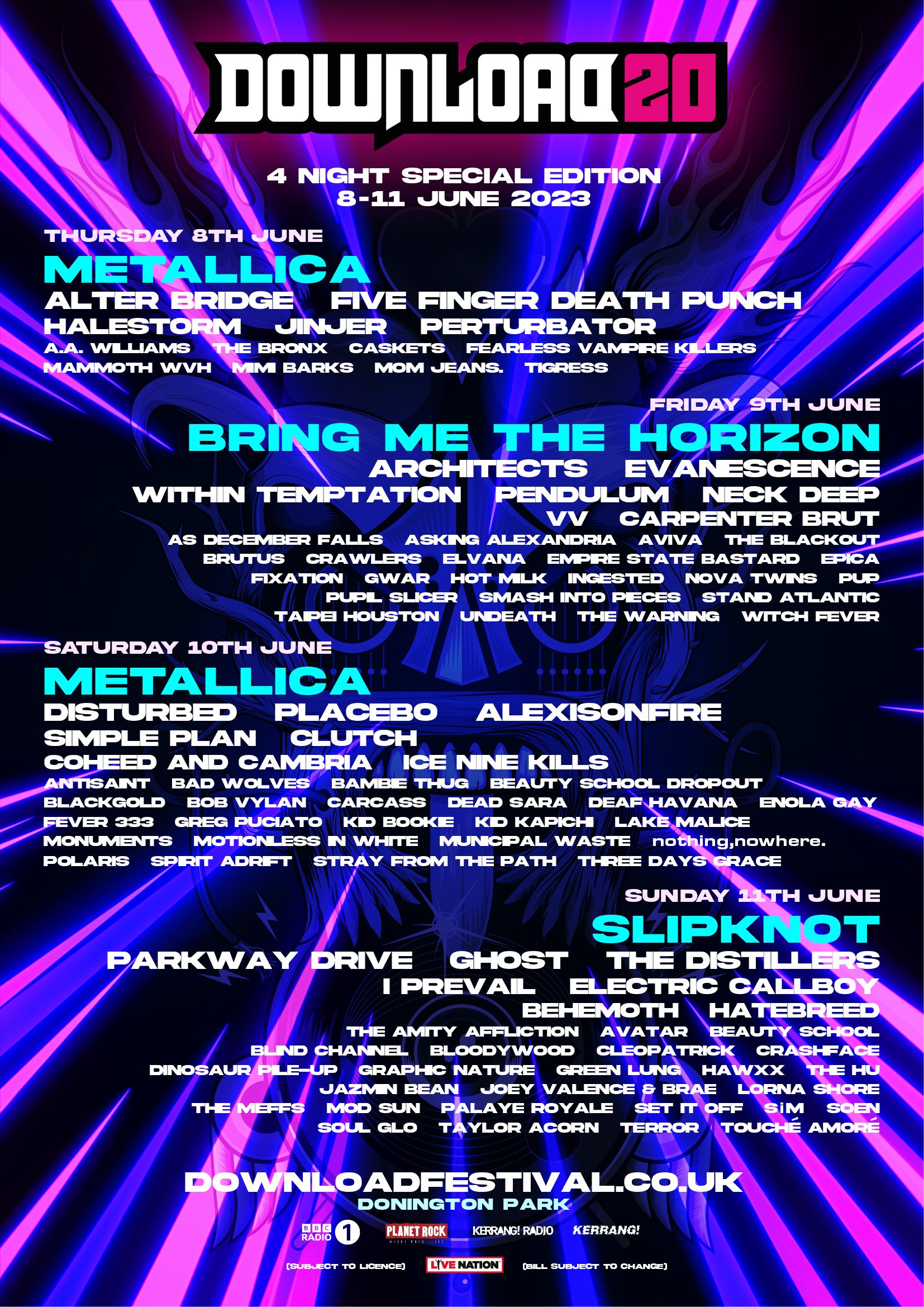 Five Finger Death Punch added to Download Festival 2023
Read Time:
7 Minute, 38 Second
Five Finger Death Punch, the multi-platinum hardrock powerhouse, add to their already impressive run of European tour dates in 2023. The band have been added to  Download Festival 2023 as third on the bill behind Metallica and Alter Bridge on Thursday 8th June 2023.
The band's last album F8 produced four #1 hit singles with "Inside Out," "A Little Bit Off," "Living The Dream," and "Darkness Settles In," the latter of which saw the band tie the record for most consecutive #1's on Billboard's Mainstream Rock Airplay Chart with seven chart-toppers in-a-row with Disturbed. Amassing over 8 billion streams and 3 billion video views to date, 5FDP has sold over one million tickets between 2018 and 2020 alone.
European Tour Dates 2023
29th April 2023 Johan Cruijff Arena, Amsterdam, NL w/ Metallica
17th May 2023 Stade de France, Paris, FR w/ Metallica
28th May 2023 Volksparkstadion, Hamburg, DE w/ Metallica
2nd & 4th June Rock Am Ring, Nürburg, DE FESTIVAL
2nd & 4th June Rock Im Park Ring, Nürnberg, DE FESTIVAL
8th June 2023 Download Festival, Donington, UK FESTIVAL
18th June 2023 Ullevi Stadium, Gothenburg SE w/ Metallica
23rd June 2023 Summerside Grenchen CH FESTIVAL
CONNECT WITH FIVE FINGER DEATH PUNCH:
Twitter | IInstagram | Facebook  | YouTube | Spotify | Apple Music | Website
 #DL20
8-11 JUNE 2023
OVER 40 NEW BANDS AND DAY SPLITS ANNOUNCED FOR DOWNLOAD FESTIVAL 2023
20TH ANNIVERSARY SPECIAL EDITION
HALESTORM, NECK DEEP, HOT MILK, ALTER BRIDGE, 
BOB VYLAN, ELECTRIC CALLBOY, CARCASS, FIVE FINGER DEATH PUNCH, PALAYE ROYALE, JINJER AND MORE
DAY TICKETS AND NEW VIP OPTIONS ON SALE NOW
LIMITED GENERAL CAMPING TICKETS REMAINING
TICKETS ON SALE NOW
The greatest rock and metal festival of all time, Download Festival, announces 44 new names and the day splits for 2023's mammoth line-up. New names include the blistering Halestorm, Alter Bridge, Neck Deep, Bob Vylan, Carcass, Five Finger Death Punch, Jinjer, Coheed and Cambria, Electric Callboy, Hot Milk and The Amity Affliction, who will join the celebration of Download's 20-year legacy at the hallowed grounds of Donington Park across four days over 8-11 June 2023. They join headliners Slipknot, Bring Me The Horizon and Metallica, who will deliver two massive no-repeat performances. Weekend and day tickets are now on sale, as well as a very limited amount of camping tickets and new VIP options: www.downloadfestival.co.uk.
The biggest annual gathering of the rock and metal tribes will be joined by 44 new names, including the Grammy-winning Halestorm, hard rock frontrunners Alter Bridge, heavy metal behemoths Five Finger Death  Punch, MOBO's first ever Best Alternative Music Act Bob Vylan, Welsh pop punk kings Neck Deep, Las Vegas glam rockers Palaye Royale, and effervescent partycore group Electric Callboy.
Joining them at the hallowed grounds will be Biffy Clyro's Simon Neil with his grindcore extreme metal side project Empire State Bastard, metalcore veterans Hatebreed, progressive rock icons Coheed and Cambria, death metal heroes Carcass, throwback rap rockers Joey Valence & Brae, dual-fronted power pop rockers Hot Milk, bright Leeds metalcore outfit Caskets and frenetic Yorkshire-based rock group Dinosaur Pile-Up. Californian punk veterans The Bronx will also be returning to Donington, along with metalcore legend and former lead vocalist of The Dillinger Escape Plan Greg Puciato, and LA metal heavyweights Bad Wolves.
Download Festival continues to showcase the best of the international metal scene, with Dutch symphonic metal group Epica, Ukrainian progressive metal band Jinjer, globe-trotting Mongolian warriors The Hu, Australian metalcore heroes The Amity Affliction, Scandinavian pop-rockers Smash Into Pieces, Swedish metal ringmasters Avatar, French gothic electronic musician Perturbator, incendiary Canadian heavy rock duo Cleopatrick, Mexican metal sisters The Warning and French dark-synth pioneer Carpenter Brut all on the bill.
Alongside them will be Maryland stoner metal monarchs Clutch, pop punk reformists Mom Jeans, two-time  Polaris Music Prize nominees PUP, doom-trap purveyor Mimi Barks, contemporary heavy metallers Spirit Adrift, Essex alt-rock quintet Tigress and Hunstanton's finest, Deaf Havana. And from the bloodline that brought us the late Eddie Van Halen, we have Wolfgang Van Halen's Mammoth WVH.
Last but not least, we have fist-pumping doom outfit Green Lung, the theatrically bleak A.A. Williams, eloquent emo-infused alt-rockers Beauty School, ostentatious Wyoming metallers Antisaint, punishing riff purveyors Undeath and Metallica protégés Taipei Houston. Not to mention that  Fearless Vampire Killers are back, and their flair for the dramatic and vaudevillian is sure to charm the Donington crowds.
Aside from bands, Download Festival are pleased to announce a brand new Camping Plus five-day ticket, which includes toilets and showers in a private campsite. For those who already have a four or five day camping tickets, upgrades are available. For something a little different, a selection of new and unique accommodations have been added to The Rock Retreat including The Skoolie, Fire Truck and Billy The Snail.
For more information on VIP options, camping tickets, weekend and day tickets, please go to: www.downloadfestival.co.uk.
JUST ANNOUNCED (A-Z)

A.A. WILLIAMS
ALTER BRIDGE
ANTISAINT
AVATAR
BAD WOLVES
BEAUTY SCHOOL
BOB VYLAN
CARCASS
CARPENTER BRUT
CASKETS
CLEOPATRICK
CLUTCH
COHEED AND CAMBRIA
DEAF HAVANA
DINOSAUR PILE-UP
ELECTRIC CALLBOY
EMPIRE STATE BASTARD
EPICA
FEARLESS VAMPIRE KILLERS
FIVE FINGER DEATH PUNCH
GREEN LUNG
GREG PUCIATO
HALESTORM
HATEBREED
HOT MILK
ICE NINE KILLS
JINJER
JOEY VALENCE & BRAE
MAMMOTH WVH
MIMI BARKS
MOM JEANS
NECK DEEP
PALAYE ROYALE
PERTURBATOR
PUP
SMASH INTO PIECES
SPIRIT ADRIFT
TAIPEI HOUSTON
THE AMITY AFFLICTION
THE BRONX
THE HU
THE WARNING
TIGRESS
UNDEATH
 
DAY SPLITS
 
THURDAY
 
METALLICA
A.A. WILLIAMS, ALTER BRIDGE, CASKETS, FEARLESS VAMPIRE KILLERS, FIVE FINGER DEATH PUNCH, HALESTORM, JINJER, MAMMOTH WVH, MIMI BARKS, MOM JEANS, PERTURBATOR, THE BRONX, TIGRESS.
 
FRIDAY
 
BRING ME THE HORIZON
ARCHITECTS, AS DECEMBER FALLS, ASKING ALEXANDRIA, AVIVA, BRUTUS, CARPENTER BRUT, CRAWLERS, ELVANA, EMPIRE STATE BASTARD, EPICA, EVANESCENCE, FIXATION, GWAR, HOT MILK, INGESTED, NECK DEEP, NOVA TWINS, PENDULUM, PUP, PUPIL SLICER, SMASH INTO PIECES, STAND ATLANTIC, TAIPEI HOUSTON, THE BLACKOUT, THE WARNING, UNDEATH, VV, WITCH FEVER, WITHIN TEMPTATION
SATURDAY
 
METALLICA
 
ALEXISONFIRE, ANTISAINT, BAD WOLVES, BAMBIE THUG, BEAUTY SCHOOL DROPOUT, BLACKGOLD, BOB VYLAN, CARCASS, CLUTCH, COHEED AND CAMBRIA, DEAD SARA, DEAF HAVANA, DISTURBED, ENOLA GAY, FEVER 333, GREG PUCIATO, ICE NINE KILLS, KID BOOKIE, KID KAPICHI, LAKE MALICE, MONUMENTS, MOTIONLESS IN WHITE, MUNICIPAL WASTE, nothing,nowhere., PLACEBO, POLARIS, SIMPLE PLAN, SPIRIT ADRIFT, STRAY FROM THE PATH, THREE DAYS GRACE
SUNDAY
SLIPKNOT
AVATAR, BEAUTY SCHOOL, BEHEMOTH, BLIND CHANNEL, BLOODYWOOD, CLEOPATRICK, CRASHFACE, DINOSAUR PILE-UP, ELECTRIC CALLBOY, GHOST, GRAPHIC NATURE, GREEN LUNG, HATEBREED, HAWXX, I PREVAIL, JAZMIN BEAN, JOEY VALENCE AND BRAE, LORNA SHORE, MOD SUN, PALAYE ROYALE, PARKWAY DRIVE, SET IT OFF, SiM, SOEN, SOUL GLO, TAYLOR ACORN, TERROR, THE AMITY AFFLICTION, THE DISTILLERS, THE HU, THE MEFFS, TOUCHE AMORE