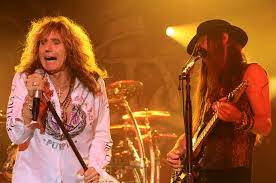 WHITESNAKE – Performed the Greatest Hits at Northfield Hard Rocksino
Read Time:
3 Minute, 28 Second
WHITESNAKE – Performed the Greatest Hits at Northfield Hard Rocksino
June 11th marked the return of Whitesnake to Northfield Hard Rocksino. In one of the record breaking attendances at the venue the fans were delivered knock out punches song after song. It was indeed "The Greatest Hits Tour."  From the opening note the crowd was engaged. It was really nice to see people in the farthest away seats
standing up and rocking out with Whitesnake.
A few of the key things from the show, David Coverdale was on fire. His vocals are still holding up and of course is dominating on stage, pulling the audience into him and the band. Michael Devin did a great bass solo and really made some new fans from his performance. Mad axemen Reb Beach and Joel Hoekstra tore the ceiling down with their solos. The monster behind the kit, Tommy Aldridge left the fans jaws dropped to the floor with his glorifying drum solo. Extremely memorable.
You expect greatness at a Whitesnake show and this one was no exception. Everyone left the show excited and the performance was the best.
Opening the show was Whitford / St. Holmes. Aerosmith's guitarist and Ted Nugent's bad-men are out and performing their hard rockin' bluesy tunes and building up their fan-base once again.  It was nice to see these guys really putting it out there to the 'Snake fans. A few little classic cuts from the Aerosmith catalog and the Nuge's as well spiced up the show and drew the crowd in to them. It was evident that it worked by the standing ovation they received at the end of their performance.
Related
0
0
TESLA Northfield (Cleveland), Ohio August 4, 2023 MGM Northfield - Center Stage Show review - Michael Strong On a hot...